Electro
News
Steve Aoki Releases New EP : It's The End of The World As We Know It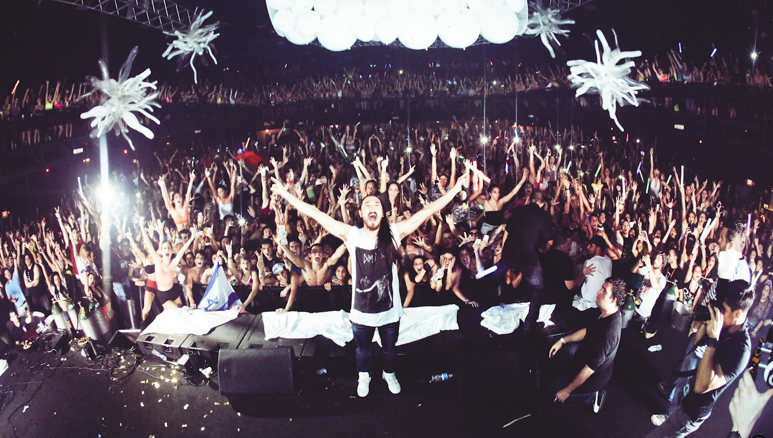 Los Angeles-based producer and DJ Steve Aoki ushers out the old and rings in the new with IT'S THE END OF THE WORLD AS WE KNOW IT, his new three-song EP out now on his own independent imprint Dim Mak Records.  It consists of tracks he produced with Angger Dimas featuring My Name Is Kay, Dan Sena & Miss Palmer and Rune RK.
[youtube id="Yu61NUHZhQ4″ width="600″ height="350″]
Meanwhile, AOKI garnered his first ever GRAMMY® nomination in the "Best Electronica Dance Album" category for Wonderland.  Released January 2012 on Dim Mak/Ultra Music, the album charted at #9 on the iTunes Overall Album Chart.  It also made its debut at Billboard at #54 on the Top 200 Album Chart and #2 on the Dance/Electronic Album Chart.  Its success was propelled by AOKI's remarkable productions involving such tracks as "Earthquakey People" featuring Rivers Cuomo of Weezer, "Heartbreaker" with CSS singer Lovefoxxx, "Cudi the Kid" featuring Kid Cudi and Travis Barker and "The Kids Will Have Their Say" feat Sick Boy with former members of The Exploited and Die Kreuzen as well as collaborations with will.i.am as [[[zuper blahq]]], LMFAO and NERVO, Lil Jon and Chiddy Bang, Polina and Wynter Gordon.
In mid-summer 2012, Dim Mak/Ultra Music followed up with Wonderland Remixed consisting of never-before-released remixes from Wonderland from the likes of Laidback Luke, Bassnectar, Clockwork, Mustard Pimp and Moguai, as well as special bonus track "Beat Down" with Angger Dimas feat. Iggy Azalea.  Both Wonderland and Wonderland Remixed appeared simultaneously on the iTunes Dance Chart in the top 20.

The track listing for IT'S THE END OF THE WORLD AS WE KNOW IT is:
1. Steve Aoki & Angger Dimas feat. My Name Is Kay – Singularity

2. Steve Aoki feat. Dan Sena & Miss Palmer – Omega
3. Steve Aoki feat. Rune RK – Transcend
Daniel Taibleson
Co-Founder & CEO | Daniel started Only The Beat with one mission in mind, to share the music he loves with the world.
Latest posts by Daniel Taibleson (see all)
↑ Back to top